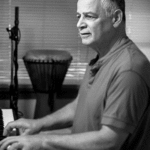 What's "Motional?" Why, it's my second album of original music — and the first since 2008, back when I thought I'd finally retired from newspapers. In 2009, it turned out I was wrong about that. But now, after a extra bonus decade of fact-ferreting and word-wrestling and a more recent transition to video production, I've been able to return to my first love: music.
"Motional" is a play on "emotional," of course, and the concept — of emotion and movement as one — is inspired by combining my first love with the work of my lasting love, Charmaine Lee. Long before consenting to be my wife nearly 30 years ago, Charmaine, a lifelong professional dancer and the founder of SynergyDance, had built a process for unifying energetic healing, movement, dance, nature, life, the universe and everything. You're thinking, surely I exaggerate. I'm thinking, not.
The 15 tracks on this release are about 50 percent "inner," as Charmaine would say, and 50 percent "outer." I tend toward the cinematic (and I've been using some of these compositions in the videos that Luke Christopher and I made over the last couple of years).
If you're like me, music just makes you happy — or makes you feel like dancing, or dreaming, or hits the notes that put you at peace with the world. For me, it almost always starts with piano. Sometimes the whole band (or virtual orchestra) shows up, sometimes not. (Sometimes it turns out there's not even a piano.) A lot of these tracks — especially those with a beat — have their roots and inspiration in SynergyDance. And I owe much of what I know of percussion and rhythm to the wonderful Washington, D.C.-based percussionist Steve Bloom.
Please visit my Bandcamp page (or, yeah, Spotify, Apple Music or Amazon Music), and if you like what you hear, click that Follow button — or, if I can continue dreaming, even the Download button.
I hope these tracks make your trip go faster, or slower, as needed.